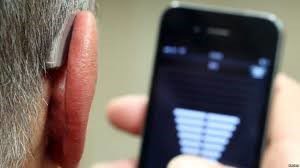 To say that the cell phone industry has taken off in the last decade is an understatement. Combine rapidly developing cell phone technology with recent improvements in hearing devices, and you have some really amazing technology. Technology that can have a significant effect on people's lives. If you already wear a hearing aid or will be needing one soon, here are 5 reasons why you should consider one of the latest advances in hearing technology, smartphone hearing aids.
Remote control

Simply download a free app on your phone and it will connect wirelessly to your smartphone hearing aids. Then, you can make discreet adjustments to your hearing aids without others even realizing you're doing so. Possible adjustments include not only volume but also treble, bass, and programs, allowing you to completely customize your listening experience.

Directly connect to audio
Smartphone hearing aids allow audio to be streamed directly into your ears from your phone. That includes music, phone calls, and directions from your GPS.
Lost and found
Because smartphone hearing aids are equipped with GPS technology, they are easily tracked by the app on your phone. That means no more searching high and low for a lost hearing aid– the location of the lost device will simply show up on a map in the app in real time.
Customizable location settings
One frustration of hearing aids is needing to change the program or settings. Based on what type of location you're in, such as a church, restaurant, or home, settings need to be different. Since smartphone hearing aids have GPS technology, your phone can remember the settings that pertained to that particular location. They will automatically adjust your settings when you return to that place the next time.
Portable microphone
Ever wish you had a microphone so you could amplify someone's voice and hear them better in a noisy setting? Smartphone hearing aids can function like that. For example, if you want to carry on a conversation with someone next to you at a loud sporting event, simply put your phone between you and you will be able to hear their voice stream directly into your hearing aids.
Whether you choose to get smartphone hearing aids or not, it's important to remember that each person is different and assistive hearing devices should be customized to an individual's needs and wants. Talk to your audiologist to see what type of hearing device makes the most sense for you.
The post 5 Reasons Why You Should Have Smartphone Hearing Aids appeared first on Hear Well – Live Well.
Source: Hear Well-Live Well Blog