Q: What is hearing loss?
A: Sound is projected in a wide range of pitches and volumes – from the low hum of a buzzing bee to the high-pitched tone of a ringing cell phone. A person with hearing loss can still hear some pitches and volumes, but not the full range of sounds. Many times, only the extremes of the ranges, or just the very quiet or very high-pitched, may be inaudible.
Q: How do I know if I have hearing loss?
A: Because hearing loss is often a gradual process, many people have a difficult time telling when their hearing capabilities have diminished. There are many common complaints with which you may identify such as having family members often tell you that the television volume is too high or frequently requesting others to repeat themselves. To learn more about your hearing loss, take our 
Online Hearing Questionnaire
Q: How much do hearing aids cost?
A: Hearing aids come in a wide range of cost. This may depend on your individual situation including your level of hearing loss and your lifestyle. Hearing aid costs can be managed by working with a hearing professional who partners with your health insurance and offers financing.
Q: Will insurance pay for my hearing aid?
A: Many health insurance policies cover a variety of hearing aids. It is important to thoroughly understand your coverage as there are often specific requirements on the type of appliance that is covered and/or limitations on the amount of coverage. It is our goal to find the type of hearing aid that is most suitable to your hearing loss and we will help you understand your treatment options as they relate to your health insurance coverage.
Q: Do you accept my insurance?
A:
 To view the list of insurances that we currently contract with, 
click here
. If you do not find your insurance company on our list, call our office as we are frequently adding new insurance contracts.
Q: Why do some people's hearing aids seem to work better than other's? Aren't they all the same?
A: There are vast differences between hearing aids, hearing abilities, levels of expertise among hearing practitioner as well as each person's adaptability to change. All of these variables can affect how successfully a person's hearing aids appear to perform. Generally, the longer a person waits to address their hearing loss, the more difficult it is for them to adjust to wearing amplification.
Q: How long should my hearing aids last?
A: The average life of a hearing aid is three to five years. Periodic cleaning can minimize repairs and extend their lifespan.
Q: What is an audiologist?
A: An audiologist is a professional specializing in prevention, assessment, and non-medical management of hearing disorders that hold a graduate degree in Audiology. By virtue of their education, training, and licensure, audiologists are the most qualified professionals to assess and treat hearing disorders.
Q: What is a hearing aid dispenser?
A: A hearing aid dispenser is licensed by the state to engage in the practice of dispensing hearing devices. Their scope of practice is hearing aid sales and service. They are not required to have a university degree.
Q: Why should I choose an audiologist if I need hearing aids?
A: Today's hearing aids are much more complex than in the past. To select the best hearing aid for your particular hearing loss and lifestyle requires a complete understanding of hearing loss and your successful adaptation to your hearing aid may require a program that includes complete testing, careful counseling, instruction, and follow-up.
We want to thank Dr. Johnson and the staff at the South Scottsdale office, for their prompt service, when I had a problem, with one of my hearing aids. They saw me within an hour of my call to their office and resolved the problem, in a few minutes. We appreciate a business that is so helpful and caring.
As a person who was just diagnosed with tinnitus and some hearing loss, I decided to see Dr. Gary Johnson and discuss if hearing aids would be beneficial to me. Dr. Johnson gave me a thorough examination and evaluation and recommended hearing aids for me to help with the hearing loss and help quiet the tinnitus. I have been wearing my new hearing aids for about 2 months now and I am so happy with them. Dr. Johnson did a wonderful job evaluating what would work for me. He is very pleasant, listens to the needs of the patient, answers all questions and makes you feel very comfortable. I have been helped with the hearing aids for both my tinnitus and hearing loss. Don't hesitate to go see Dr. Johnson if you are in need of someone who can help with your tinnitus and hearing problems. He is the best in the business.
I had a hearing aid quit on me. I went into the Mesa location and was greeted by a pleasant young lady and was promptly helped to get my hearing aid working again. And there was no charge!! Great service and pleasant staff. What a great experience!!
Will health insurance cover my hearing aids? What about ear wax removal?
Insurance covers many hearing & audiology services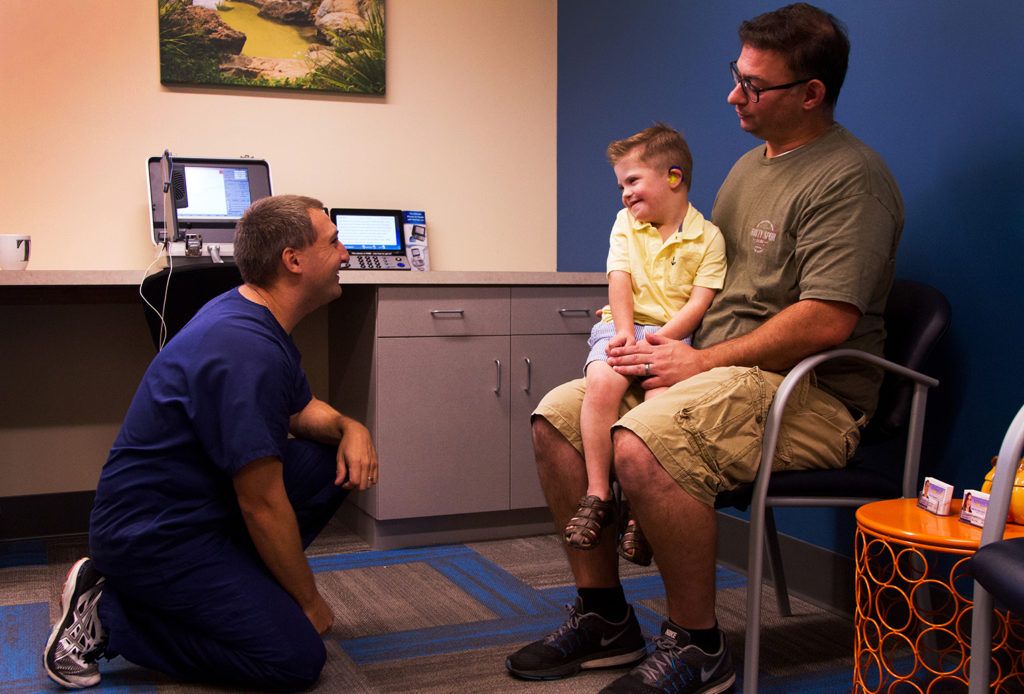 Health insurance companies cover a variety of
hearing aids
. Since there are often specific requirements, and/or limitations on what or how much is covered, it is important to thoroughly understand what your health plan offers. It is our goal to find the type of hearing aid that is most suitable for your hearing loss. We will also help you understand your treatment options as they relate to your health insurance coverage.
Most insurance typically covers the cost of earwax removal services, with the patient paying only their standard policy deductible. However, the cost of earwax removal is not as expensive as you might think – without going through insurance, the cost of a standard earwax removal is $95.00 for either one ear or two.
We proudly contract with the insurance companies listed below. Our list is constantly growing, so check back often to see if your company is included. Alternatively, you can call us for assistance with your plan's coverage, or to see if we contract with your insurance.
AARP / AARP Medicare Complete
ACN Connected Care
Aetna / ALL plans/ Banner
Alaska Care
Arizona Care Network (ACN)
Arizona Complete Health (AHCCCS)
Allwell Commerical / AHCCCS
Ambetter
Ameriben
American Postal Workers Union (APWU)
Arizona Health Care Cost Containment (AHCCCS)
Arizona Medical Network (AMN)
AZ Complete Health Care
Banner University Medicare Advantage (SNP)
Banner University LTC (AHCCCS)
Banner University Family Care (AHCCCS)
Beech Street
Blue Cross Blue Shield (Auth required for Banner)
Children's Rehabilitation Services (CRS)
Cigna (All Plans)
CMDP (AHCCCS)
Cofinity
Core Civic
Coventry
First Health
Fortified Provider Network (HMN)
GEHA
Gilsbar
Golden Rule
Great West Health
Health Choice (AHCCCS)
Health Choice Pathway (SNP)
Health Management Network (HMN)
Healthnet (All Plans)
Healthnet Federal Services
Health Smart
Humana (All Plans)
ICE Health Services (IHS)
Imperial Insurance
Mail Handlers Benefit Plan (MHBP)
Medicare Part B
Medicare Railroad
Magellan Complete Care
Meritain
Meritus
Mercy Care Advantage (SNP)
Mercy Care Plan (AHCCCS)
Mercy Care Group Health
Mercy Care RBHA
Mercy Maricopa Integrated
Molina Care (AHCCCS)
Multiplan/RAN
Oscar Healthcare (Cigna only)
OWCP (Workers Comp.)
Refugee Medical Asst. Program (RMAP)
Southwest Services Administrators
Tricare West Region / HNFS
Triwest / VA Community Care
United Food and Commercial Workers (UFCW)
UHC AARP Medicare Complete (Auth required for Banner)
UHC Dual Complete (SNP)
UHC Community Plan (AHCCCS)
UMR
United Mine Workers Union (UMWU)
United Healthcare (Auth required for Banner)
VA Community Care
Wellcare
Washington State Labor of Industry
Your Audiology & Hearing Aid Provider in Scottsdale & Mesa