While there is currently no cure for tinnitus, our audiologists can provide treatment. Patients can still get relief from tinnitus by treating the symptoms of the condition. The most common treatment for tinnitus is utilizing sound therapy with either hearing aids or tinnitus maskers that help the brain ignore the specific tinnitus frequency.
Tinnitus Treatment Options
Hearing aids are especially helpful for tinnitus relief if the patient suffers from both tinnitus as well as some type of hearing loss. Our audiologists have several options that, depending on your particular condition, that assist in the treatment of tinnitus:
ReSound Verso TS offers advanced tinnitus therapy tools such as a white noise generator, frequency shaper, volume control of noise, environmental steering, amplitude modulation and streaming sound signals.
Phonak Audéo Q's are able to generate sounds which reduce the annoyance of tinnitus.
Widex Zen Therapy is a unique approach that combines sound stimulation, counseling, stress reduction as well as amplification depending on your level of tinnitus.
Starkey Hearing Technologies offers the Xino Tinnitus which creates a customizable and comforting sound stimulus that you and your audiologist can fine-tune to soothe the unique, irritating sounds you hear, giving you all day tinnitus relief.
Just because there is not a cure for tinnitus does not mean that a patient should not receive treatment for tinnitus. Untreated tinnitus can have a significant impact on an individual's quality of life; fatigue, depression, anxiety, irritability, sleep problems, lack of concentration and stress are prevalent in suffers from tinnitus. Getting some sort of tinnitus relief might not directly affect the tinnitus; however, it will certainly help restore your quality of life.
DID YOU KNOW?
There are many different advanced technologies available for hearing aid users. Some hearing aids are even engineered to work with your iPhone, iPad® and iPod touch®, so FaceTime®, phone calls, videos, iBooks, music and more stream directly into your hearing aids with pristine sound quality – no background buzzing and no whistling.

"My life is changed forever with my new Phonak Paradise hearing aids. I'm so proud and thankful that I tell everyone I meet how wonderful it is to hear paper rustling and my own footsteps on the floor again. It is a miracle and a blessing. Thank you Adam Dipuccio and doctors at AHG for my new life!!!"

"We want to thank Dr. Johnson and the staff at the South Scottsdale office for their prompt service. When I had a problem with one of my hearing aids, they saw me within an hour of my call to their office, and resolved the problem in a few minutes. We appreciate a business that is so helpful and caring."

"Dr. Johnson did a wonderful job evaluating what would work for me. He is very pleasant, listens to the needs of the patient, answers all questions, and makes you feel very comfortable. I have been helped with hearing aids for both my tinnitus and hearing loss. Don't hesitate to go see Dr. Johnson if you are in need... He is the best in the business!"

"I had a hearing aid quit on me. I went into the Mesa location and was greeted by a pleasant young lady and was promptly helped to get my hearing aid working again. And there was no charge !! Great service and pleasant staff. What a great experience !!"

"I have been using AHG for several years and they have been just great to work with. I get the hearing devices I need and they are well taken care of by AHG while I own them. Gary is a great audiologist and the receptionist is always helpful, friendly and available. Try them, you'll like them."

"We do not know how to thank you for the amazing professionalism and compassion you demonstrated to our family recently in addressing the hearing loss of my wife. Your kindness far exceeded your obligation as an Audiologist to provide competent professional care and we are very grateful. We were so fortunate to find you."
Will health insurance cover my hearing aids? What about ear wax removal?
Insurance covers many hearing & audiology services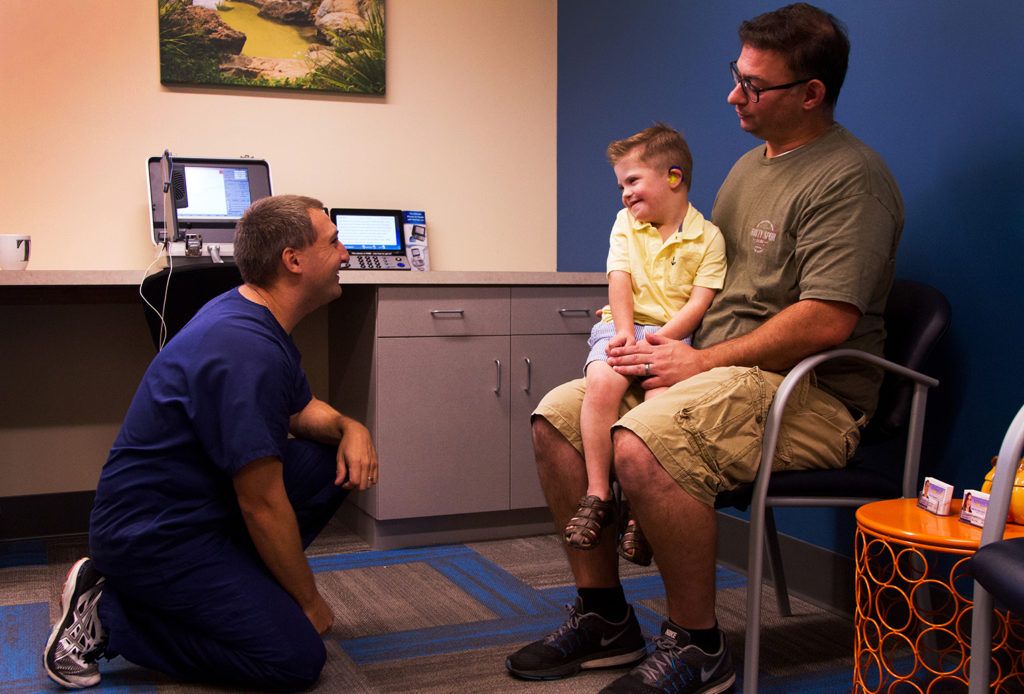 Health insurance companies cover a variety of
hearing aids
. Since there are often specific requirements, and/or limitations on what or how much is covered, it is important to thoroughly understand what your health plan offers. It is our goal to find the type of hearing aid that is most suitable for your hearing loss. We will also help you understand your treatment options as they relate to your health insurance coverage.
Most insurance typically covers the cost of earwax removal services, with the patient paying only their standard policy deductible. However, the cost of earwax removal is not as expensive as you might think – without going through insurance, the cost of a standard earwax removal is $95.00 for either one ear or two.
We proudly contract with the insurance companies listed below. Our list is constantly growing, so check back often to see if your company is included. Alternatively, you can call us for assistance with your plan's coverage, or to see if we contract with your insurance.
AARP / AARP Medicare Complete
ACN Connected Care
Aetna / ALL plans/ Banner
Alaska Care
Arizona Care Network (ACN)
Arizona Complete Health (AHCCCS)
Allwell Commerical / AHCCCS
Ambetter
Ameriben
American Postal Workers Union (APWU)
Arizona Health Care Cost Containment (AHCCCS)
Arizona Medical Network (AMN)
AZ Complete Health Care
Banner University Medicare Advantage (SNP)
Banner University LTC (AHCCCS)
Banner University Family Care (AHCCCS)
Beech Street
Blue Cross Blue Shield (Auth required for Banner)
Children's Rehabilitation Services (CRS)
Cigna (All Plans)
CMDP (AHCCCS)
Cofinity
Core Civic
Coventry
First Health
Fortified Provider Network (HMN)
GEHA
Gilsbar
Golden Rule
Great West Health
Health Choice (AHCCCS)
Health Choice Pathway (SNP)
Health Management Network (HMN)
Healthnet (All Plans)
Healthnet Federal Services
Health Smart
Humana (All Plans)
ICE Health Services (IHS)
Imperial Insurance
Mail Handlers Benefit Plan (MHBP)
Medicare Part B
Medicare Railroad
Magellan Complete Care
Meritain
Meritus
Mercy Care Advantage (SNP)
Mercy Care Plan (AHCCCS)
Mercy Care Group Health
Mercy Care RBHA
Mercy Maricopa Integrated
Molina Care (AHCCCS)
Multiplan/RAN
Oscar Healthcare (Cigna only)
OWCP (Workers Comp.)
Refugee Medical Asst. Program (RMAP)
Southwest Services Administrators
Tricare West Region / HNFS
Triwest / VA Community Care
United Food and Commercial Workers (UFCW)
UHC AARP Medicare Complete (Auth required for Banner)
UHC Dual Complete (SNP)
UHC Community Plan (AHCCCS)
UMR
United Mine Workers Union (UMWU)
United Healthcare (Auth required for Banner)
VA Community Care
Wellcare
Washington State Labor of Industry
Your Audiology & Hearing Aid Provider in Scottsdale & Mesa