"We want to thank Dr. Johnson and the staff at the South Scottsdale office, for their prompt service, when I had a problem, with one of my hearing aids. They saw me within an hour of my call to their office and resolved the problem, in a few minutes. We appreciate a business that is so helpful and caring."
---
"As a person who was just diagnosed with tinnitus and some hearing loss, I decided to see Dr. Gary Johnson and discuss if hearing aids would be beneficial to me. Dr. Johnson gave me a thorough examination and evaluation and recommended hearing aids for me to help with the hearing loss and help quiet the tinnitus. I have been wearing my new hearing aids for about 2 months now and I am so happy with them. Dr. Johnson did a wonderful job evaluating what would work for me. He is very pleasant, listens to the needs of the patient, answers all questions and makes you feel very comfortable. I have been helped with the hearing aids for both my tinnitus and hearing loss. Don't hesitate to go see Dr. Johnson if you are in need of someone who can help with your tinnitus and hearing problems. He is the best in the business."
---
"I took my parents to this hearing clinic last week and was highly impressed with the level of compassion and patience the office staff and doctors showed us. My parents have been resisting the idea of hearing aids for years because so many people have such difficulty with them, but this company has a plan that allows my parents to try the hearing aids out for a while before they have to purchase them. This is the perfect set and to have such great service along with the plan is amazing. I would highly recommend this office to anyone."
---
"In 30 years of purchasing and wearing hearing aids, I have never really been satisfied with the quality of service and was always left with the impression that the person selling them was less than caring about my hearing needs. Gary Johnson demonstrated a level of professionalism, trust, caring, commitment, and skill to resolve my hearing issues as best as they can be resolved and I highly recommend him and Advanced Hearing Group." 
---
"I verbally stated but wanted to put in print what you have done for me. I am in my 90th year, and I appreciate any help I can get for my health and well being. Thank you for working with Dale to get me my wonderful hearing aids, the extra batteries and the consistent care you provide in maintaining my hearing ears."
---
"I recently visited your office to purchase hearing aids. I had been to several offices in the valley. Dr. Christina Gabler helped me choose the best device for me. I was so impressed with her knowledge, courtesy and patience that I took my wife with me to a later appointment just to meet her. She is an invaluable asset to your office." 
"I recently was visiting my daughter in Phoenix and my hearing aid just stopped working. The people at Advanced hearing group were more than helpful. They were extremely helpful and I was on my way in no time! Highly recommend!"
"In 30 years of purchasing and wearing hearing aids I have never really been satisfied with the quality of service and was always left with the impression the person selling them was less than caring about my hearing needs. Gary Johnson demonstrated a level of professionalism, trust, caring, commitment, and skill to resolve my hearing issues as best as they can be resolved, and I highly recommend him and Advanced Hearing Group."
"Dr. Johnson placed hearing aids in a couple of years ago and gave wonderful and caring follow up care. In January, Dr. Kelly implanted lyrics and I love the ease and fit of this technology. The office is caring and convenient."
"I had a hearing aid quit on me. I went into the Mesa location and was greeted by a pleasant young lady and was promptly helped to get my hearing aid working again. And there was no charge !! Great service and pleasant staff. What a great experience !!"
"I approached AHG last December to assist me with my hearing loss that was both affecting my personal and professional life. I was referred to this practice by a friend who also had a fantastic experience. Dr's Christina and Adam have been professional and outstanding in my care and treatment. I can now hear my spouse when she is talking with me. And additionally, I can hear on my phone when I am dealing with my business. They made the process seamless, and assisted with the insurance company to get me the best benefit that could be offered. I highly recommend AHG to assist with your hearing needs knowing that you will receive the care you expect and deserve."
"I have found your staff to be most helpful. Adam helped me select the right Phonak hearing aids and I am well pleased with them. Christina was a great addition to your staff, she helped me with an issue with the hearing aids to my utmost satisfaction. I have found your front desk staff to be most professional and helpful as well. Keep up the good service!" 
"I came into the Mesa office on 02/02/15, as I forgot how to use my remote device for my "behind the ear" hearing aid. The front desk representative made an appointment for me the very same day at 4:30 PM to speak with audiologist Christina Gabler. Although I purchased the hearing aids over two years ago Christina greeted me is such a warm and friendly manner. She spent an amazing amount of time with me to explain the operation of my hearing aids and the remote. Christina even noticed there was a firmware update for my device and she did the update right there. I purchased these devices over two years ago, yet Christina treated me like I just came in that day to purchase them and made me feel like a valued patient of your company. All too often people are quick to complain and never take the time to thank someone for going that extra mile for them. I want to thank Advanced Hearing, and especially Christina, for being so kind, considerate and helpful to me. It showed me that Advanced Hearing Group really cares about their patients. Christina is an amazing asset to your company and I respectfully ask you to let her know how much I appreciate all she did for me. Also, please feel free to provide my comments to other potential patients. Thank you again for all you did for me." 
"I found Christina to be a great addition to your staff. In a few words: Caring, Patient, Sincere, Great Teacher, Knowledgeable, Answers All Questions Without Judgment. Thanks so much for a great experience. Love my new hearing aids so much that I forgot to take them out!!" 
"The service provided by Advanced Hearing Group was excellent. I compared the prices of Phonak Hearing Aids and the prices charged by Advanced Hearing were the lowest in town. Excellent follow-up service." 
"After I successfully completed The NOW Program™, they even allowed me an additional 30-day trial. Thanks Advanced Hearing Group!"
"Not only can I now fully appreciate the beautiful music that is the world around me, these new aids are so comfortable, I often forget to remove them before going to bed. A thousand thanks for Dr. Johnson and his staff for giving me back what I was missing."
"Dear Adam, Let me thank you for your kindness to me in assisting me with my hearing problem. It was generous of you to lend me an aid while mine was sent for repair and it was even better for me that you arranged for a new replacement. You put in a lot of time for which you were not paid. I will be happy to recommend you to any of our friends or neighbors." 
"We found Adam from my Dad and Mom as they have been going there for years and love the people there – but I did not think I would need his help for our 9 year old son. Thank you for helping us with Joey's hearing. You really put our minds at ease. I recommend Adam and his staff for anyone at any age." 
"This is a review from my father: Dr. Gary Johnson is an amazing audiologist. I have been having trouble with my hearing for years, despite going to a local audiologist and having hearing aids already. Dr. Johnson came highly recommended by a family friend who lives in Arizona, and as such, I decided to make a vacation to go from NY to Arizona, mainly to see Dr. Johnson. After meeting him, I felt like I knew him for many years. He was very compassionate and explained things about my hearing that I was never informed of by my previous audiologist. He also sat with me and explained the use of my new hearing aids. I have contacted Dr. Johnson since my visit and he is very prompt at returning my phone calls and helping me over the phone. I would strongly recommend him to anyone."
"Dr. Gary Johnson is one of the best audiologists I have worked with. After suffering through some very ill-fitting aids, he fit me with some aids that truly improved the quality of my life. Despite my moderate hearing loss, I hear very well in my active lifestyle, enjoy conversation in noisy environments and now enjoy my favorite shows and movies too. He is extremely knowledgeable and great to work with. If you need hearing aids, I highly recommend him."
"I can hear!! Advanced Hearing Group and Dr. Gary Johnson are a lifesaver – or at least a hearing saver! For several weeks I've been afraid that I was getting hard of hearing, but I'm not. It's such a relief to hear again after a very quick and painless earwax removal procedure. Not only did they fix my problem, but they taught me a lot of things about my ears and how to care for them. I loved the modern technology – they show you the inside of your ears! Thanks again, Advanced Hearing Group!" 
"I took my parents to this hearing clinic last week and was highly impressed with the level of compassion and patience the office staff and doctors showed us. My parents have been resisting the idea of hearing aids for years because so many people have such difficulty with them, but this company has a plan that allows my parents to try the hearing aids out for a while before they have to purchase them. This is the perfect set up – and to have such great service along with the plan is amazing. I would highly recommend this office to anyone." 
"I have been using AHG for several years and they have been just great to work with. I get the hearing devices I need and they are well taken care of by AHG while I own them. Gary is a great audiologist and the receptionist is always helpful, friendly and available. Try them, you'll like them." 
"After being told to get my hearing checked by my family for years. OH, by the way If you have told to have your hearing check. Take their word for it and go. They are probably more than right. I went to see Dr. Johnson. He did the most comprehensive hearing test and check up I have ever had. They don't do hearing test like they used to. He went through every aspect of the test and what they do. He also informed me and what they could help and could not do anything for. He also took the time to answer all of my questions and worked with me through the whole process. He had me come back several times to check my hearing aids adjust them and help me understand how to get the most out of them. I feel confided that if I have any questions or need more adjustment he will take the time to help me whenever I need it. Dr Johnson also assured me that my standard of living would improve and he was right. My wife and kids where immediately happier because I turn the volume down on everything and they did not have to repeat everything. I told a couple of my good customers what I had done and even they were happy. In the end even they said my hearing loss was getting annoying. Now I do not have to strain to understand what people are saying in meetings or one on one. Dr. Johnson and the staff at Advanced Hearing Group are the best. I have referred several people to them and will continue to do so." 
"My experience with the Advanced Hearing Group and Doctor Gary M. Johnson who is a true professional. My Hearing Aids have been the Very Best. I can hear now for the first time in years. Dr. Johnson took his time explaining all aspects of the hearing aids, he is the most outstanding health professional I've ever dealt with. I sincerely thank Dr. Johnson for what he has done for me." 
"What a wonderful experience it was to have Dr. Gary Johnson evaluate and help me to overcome my resistance to hearing aids. He was able to alleviate my fears and embarrassment over the prospect of having to wear hearing aids. The office was beautiful and well appointed and Dr. Johnson has a wonderfully professional and comforting bedside manner. I would not hesitate to recommend Advance Hearing Group as the best place to go for all your hearing needs." 
"My mother is 93, and has been in Dr. Gary's care for many years! If you are looking for "the best" audiologist, I truly recommend Dr. Gary. He is always looking for the appropriate hearing solution, and his honest approach leaves you with the knowledge that he deeply cares. If you know anyone who is in need of an audiologist, don't hesitate to contact Advanced Hearing Group You will be truly happy you made the call!!!!!"
"Thank you, Dr. Johnson! I've put off going to see an audiologist for way too long because I didn't want to be told that I needed hearing aids that I knew I couldn't afford. I really appreciate the way all the staff took the time to listen to me and patiently answer all my questions. The bad news is I do need hearing aids, but the good news is that Dr. Johnson's office makes it affordable and easy."
"As a person who was just diagnosed with tinnitus and some hearing loss, I decided to see Dr. Gary Johnson and discuss if hearing aids would be beneficial to me. Dr. Johnson gave me a thorough examination and evaluation and recommended hearing aids for me to help with the hearing loss and help quiet the tinnitus. I have been wearing my new hearing aids for about 2 months now and I am so happy with them. Dr. Johnson did a wonderful job evaluating what would work for me. He is very pleasant, listens to the needs of the patient, answers all questions and makes you feel very comfortable. I have been helped with the hearing aids for both my tinnitus and hearing loss. Don't hesitate to go see Dr. Johnson if you are in need of someone who can help with your tinnitus and hearing problems. He is the best in the business."
"Dr. Johnson is the best Audiologist I've ever been to. I'm only 26, and to have a sufficient amount of hearing loss from birth, to say I was stubborn and resistant to get hearing aids is an understatement. Dr. Johnson is very professional. He's friendly, and he's extremely knowledgeable. He went out of his way to ensure I was within my budget, as well as getting a great product. For the first time in my life – I can hear! I had a very brief (well, maybe a half hour long) moment of panic, where I was resistant and could only see the negatives of getting hearing aids. He was so supportive of my overly dramatic response to hearing. He turned the hearing aids down to a level that was perfect for starting out. I came in a few times after for him to adjust, check, and turn them up. Everything he said was right on. He told me that I would truly enjoy hearing my kids… I have to say that was the only thing he was wrong about, LOL. My kids are amazing, and loud. Ha Ha! I will never forget my experience with him, and am forever grateful. Now I get to live a life of hearing fully, while enjoying it and the experience getting their. He has a customer for life. If you are unsure of anything, if you don't know the answer, or need any kind of help – please make this your stop for any hearing needs!"
"The location is great, very centrally located. The service was fantastic. We have used Dr Johnson for our kids and for us personally, and he is extremely patient. Our 5 year old was scared to have her ears looked at when they were hurting and he really took his time to make her comfortable! He made my husband and I custom ear molds for our headphones and not only were they affordable they never fall out while running or doing other exercise!"
"I shopped for hearing aids and was tested and given the sales pitch at a high-end clinic a wholesale club and at Advanced Hearing Group in Scottsdale on McDowell Road. Without question I felt the most confident in the information provided by Dr. Johnson. Perhaps it was the way he and his staff made me feel comfortable; perhaps it was Dr.J's low-key but informative style or perhaps it was the doctor convincing me he would get me the best equipment at the best cost in my price range. For all those reasons, I selected Advanced hearing Group, they came through on every front. I would not hesitate to recommend them to family and friends–as well as anyone who might read this review."
"I have been wearing my new hearing aids for about 2 months now and I am so happy with them. Dr. Johnson did a wonderful job evaluating what would work for me. He is very pleasant, listens to the needs of the patient, answers all questions, and makes you feel very comfortable. He is the best in the business." 
"We do not know how to thank you for the amazing professionalism and compassion you demonstrated to our family recently in addressing the hearing loss of my wife. Your kindness far exceeded your obligation as a Clinical Audiologist to provide competent professional care and we are very grateful. We were so fortunate to find you."
We want to thank Dr. Johnson and the staff at the South Scottsdale office, for their prompt service, when I had a problem, with one of my hearing aids. They saw me within an hour of my call to their office and resolved the problem, in a few minutes. We appreciate a business that is so helpful and caring.
As a person who was just diagnosed with tinnitus and some hearing loss, I decided to see Dr. Gary Johnson and discuss if hearing aids would be beneficial to me. Dr. Johnson gave me a thorough examination and evaluation and recommended hearing aids for me to help with the hearing loss and help quiet the tinnitus. I have been wearing my new hearing aids for about 2 months now and I am so happy with them. Dr. Johnson did a wonderful job evaluating what would work for me. He is very pleasant, listens to the needs of the patient, answers all questions and makes you feel very comfortable. I have been helped with the hearing aids for both my tinnitus and hearing loss. Don't hesitate to go see Dr. Johnson if you are in need of someone who can help with your tinnitus and hearing problems. He is the best in the business.
I had a hearing aid quit on me. I went into the Mesa location and was greeted by a pleasant young lady and was promptly helped to get my hearing aid working again. And there was no charge !! Great service and pleasant staff. What a great experience!
Will health insurance cover my hearing aids? What about ear wax removal?
Insurance covers many hearing & audiology services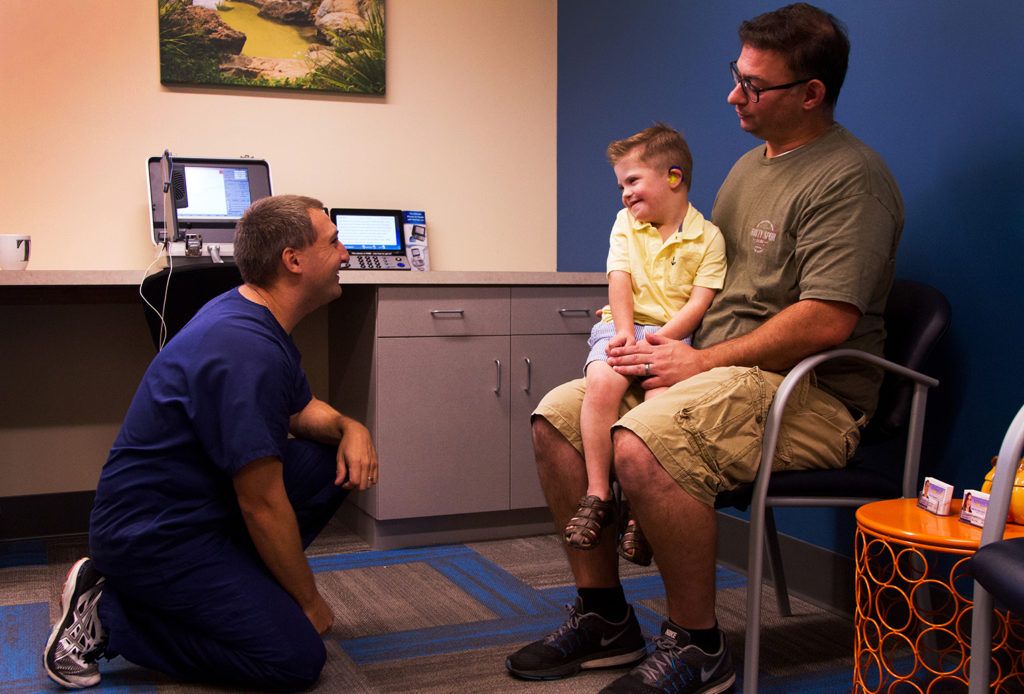 Health insurance companies cover a variety of
hearing aids
. Since there are often specific requirements, and/or limitations on what or how much is covered, it is important to thoroughly understand what your health plan offers. It is our goal to find the type of hearing aid that is most suitable for your hearing loss. We will also help you understand your treatment options as they relate to your health insurance coverage.
Most insurance typically covers the cost of earwax removal services, with the patient paying only their standard policy deductible. However, the cost of earwax removal is not as expensive as you might think – without going through insurance, the cost of a standard earwax removal is $95.00 for either one ear or two.
We proudly contract with the insurance companies listed below. Our list is constantly growing, so check back often to see if your company is included. Alternatively, you can call us for assistance with your plan's coverage, or to see if we contract with your insurance.
AARP / AARP Medicare Complete
ACN Connected Care
Aetna / ALL plans/ Banner
Alaska Care
Arizona Care Network (ACN)
Arizona Complete Health (AHCCCS)
Allwell Commerical / AHCCCS
Ambetter
Ameriben
American Postal Workers Union (APWU)
Arizona Health Care Cost Containment (AHCCCS)
Arizona Medical Network (AMN)
AZ Complete Health Care
Banner University Medicare Advantage (SNP)
Banner University LTC (AHCCCS)
Banner University Family Care (AHCCCS)
Beech Street
Blue Cross Blue Shield (Auth required for Banner)
Children's Rehabilitation Services (CRS)
Cigna (All Plans)
CMDP (AHCCCS)
Cofinity
Core Civic
Coventry
First Health
Fortified Provider Network (HMN)
GEHA
Gilsbar
Golden Rule
Great West Health
Health Choice (AHCCCS)
Health Choice Pathway (SNP)
Health Management Network (HMN)
Healthnet (All Plans)
Healthnet Federal Services
Health Smart
Humana (All Plans)
ICE Health Services (IHS)
Imperial Insurance
Mail Handlers Benefit Plan (MHBP)
Medicare Part B
Medicare Railroad
Magellan Complete Care
Meritain
Meritus
Mercy Care Advantage (SNP)
Mercy Care Plan (AHCCCS)
Mercy Care Group Health
Mercy Care RBHA
Mercy Maricopa Integrated
Molina Care (AHCCCS)
Multiplan/RAN
Oscar Healthcare (Cigna only)
OWCP (Workers Comp.)
Refugee Medical Asst. Program (RMAP)
Southwest Services Administrators
Tricare West Region / HNFS
Triwest / VA Community Care
United Food and Commercial Workers (UFCW)
UHC AARP Medicare Complete (Auth required for Banner)
UHC Dual Complete (SNP)
UHC Community Plan (AHCCCS)
UMR
United Mine Workers Union (UMWU)
United Healthcare (Auth required for Banner)
VA Community Care
Wellcare
Washington State Labor of Industry
Your Audiology & Hearing Aid Provider in Scottsdale & Mesa