Digital & Standard Hearing Protection
Digital hearing protection offers the unique ability to permit lower decibel noise levels, such as the launch of a trap or the flush of a bird, while still protecting your ears from sounds that are over 90 dB in volume. You can have a normal conversation in a duck blind, talk with friends on the Sporting Clays course, or easily communicate with your team in a tactical setting. All-the-while, your fragile hearing will remain properly protected from damaging noises such as gunfire. While a gunshot tops the charts at 150 dB, our ESP digital hearing protection earplug helps to turn the volume down on other sounds we hear every day that can also contribute to permanent hearing damage.
Hunters, as well as law enforcement, gun range, backyard and target shooters, can suffer serious and permanent damage to their inner eardrums due to exposure to gunshots without wearing ear protection. Unfortunately, individuals often neglect to use hearing protection, either because they are unaware of how significant the damage can be, or because they believe their options consist of either awkward-fitting foam earplugs or bulky headphones that eliminate the natural sounds hunters rely on.
Digital hearing protection provides a solution
Fortunately, there IS a better answer for hearing protection. Products, such as ESP America Digital Ear Protection, are neither cumbersome nor a one-size-fits-most solution. Each pair of ESP digital earplugs is custom sized to your ears, ensuring a comfortable fit.
Beyond the unsurpassed digital hearing protection, the ESP product is incredibly durable. They are also lightweight and easy to insert, allowing you to keep your focus on the target and your surroundings, rather than constantly readjusting your ear protection. In fact, the custom fit is so precise, you'll forget you're wearing them! Save yourself from a lifetime of hearing problems or the possibility of complete hearing loss with ESP's newly updated line of hearing protection products. The most innovative and effective digital earplugs available to shooters.
ESP's Digital Hearing Protection is intended for people who are exposed to loud intermittent sounds such as gunshots. If you are looking for hearing protection options for jobs that have a constant exposure to loud noises such as construction and factory workers, traditional hearing protection is ideal for you.
DID YOU KNOW?
More than 50 million shooters in the U.S. are currently at risk for developing some degree of noise-induced hearing loss … the world's most common and preventable disability. Every time you shoot a gun without proper hearing protection, you are assaulting your ears with up to 150 decibels (dB) of deafening sound. Repeat exposure over 90 dB will result in permanent hearing loss while a single gun blast of more than
120 dB can do the same.
We want to thank Dr. Johnson and the staff at the South Scottsdale office, for their prompt service, when I had a problem, with one of my hearing aids. They saw me within an hour of my call to their office and resolved the problem, in a few minutes. We appreciate a business that is so helpful and caring.
Lisa B.
As a person who was just diagnosed with tinnitus and some hearing loss, I decided to see Dr. Gary Johnson and discuss if hearing aids would be beneficial to me. Dr. Johnson gave me a thorough examination and evaluation and recommended hearing aids for me to help with the hearing loss and help quiet the tinnitus. I have been wearing my new hearing aids for about 2 months now and I am so happy with them. Dr. Johnson did a wonderful job evaluating what would work for me. He is very pleasant, listens to the needs of the patient, answers all questions and makes you feel very comfortable. I have been helped with the hearing aids for both my tinnitus and hearing loss. Don't hesitate to go see Dr. Johnson if you are in need of someone who can help with your tinnitus and hearing problems. He is the best in the business.
Laura S.
I had a hearing aid quit on me. I went into the Mesa location and was greeted by a pleasant young lady and was promptly helped to get my hearing aid working again. And there was no charge !!Great service and pleasant staff. What a great experience !!
Gordon O.
Will health insurance cover my hearing aids? What about ear wax removal?
Insurance covers many hearing & audiology services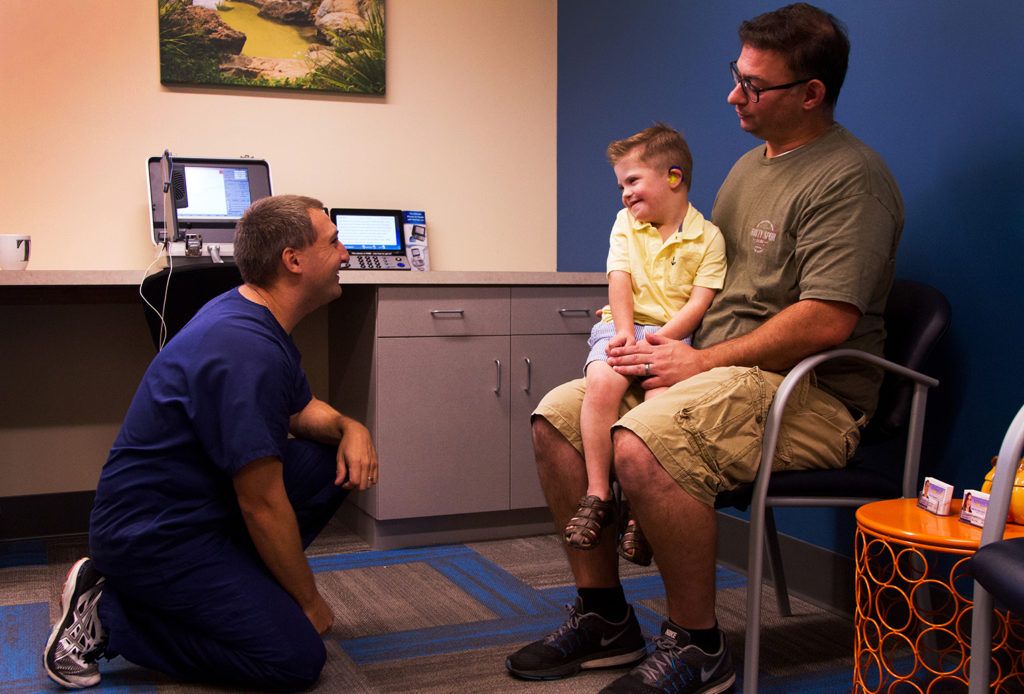 Health insurance companies cover a variety of
hearing aids
. Since there are often specific requirements, and/or limitations on what or how much is covered, it is important to thoroughly understand what your health plan offers. It is our goal to find the type of hearing aid that is most suitable for your hearing loss. We will also help you understand your treatment options as they relate to your health insurance coverage.
Most insurance typically covers the cost of earwax removal services, with the patient paying only their standard policy deductible. However, the cost of earwax removal is not as expensive as you might think – without going through insurance, the cost of a standard earwax removal is $95.00 for either one ear or two.
We proudly contract with the insurance companies listed below. Our list is constantly growing, so check back often to see if your company is included. Alternatively, you can call us for assistance with your plan's coverage, or to see if we contract with your insurance.
AARP / AARP Medicare Complete
ACN Connected Care
Aetna / ALL plans/ Banner
Alaska Care
Arizona Care Network (ACN)
Arizona Complete Health (AHCCCS)
Allwell Commerical / AHCCCS
Ambetter
Ameriben
American Postal Workers Union (APWU)
Arizona Health Care Cost Containment (AHCCCS)
Arizona Medical Network (AMN)
AZ Complete Health Care
Banner University Medicare Advantage (SNP)
Banner University LTC (AHCCCS)
Banner University Family Care (AHCCCS)
Beech Street
Blue Cross Blue Shield (Auth required for Banner)
Children's Rehabilitation Services (CRS)
Cigna (All Plans)
CMDP (AHCCCS)
Cofinity
Core Civic
Coventry
First Health
Fortified Provider Network (HMN)
GEHA
Gilsbar
Golden Rule
Great West Health
Health Choice (AHCCCS)
Health Choice Pathway (SNP)
Health Management Network (HMN)
Healthnet (All Plans)
Healthnet Federal Services
Health Smart
Humana (All Plans)
ICE Health Services (IHS)
Imperial Insurance
Mail Handlers Benefit Plan (MHBP)
Medicare Part B
Medicare Railroad
Magellan Complete Care
Meritain
Meritus
Mercy Care Advantage (SNP)
Mercy Care Plan (AHCCCS)
Mercy Care Group Health
Mercy Care RBHA
Mercy Maricopa Integrated
Molina Care (AHCCCS)
Multiplan/RAN
Oscar Healthcare (Cigna only)
OWCP (Workers Comp.)
Refugee Medical Asst. Program (RMAP)
Southwest Services Administrators
Tricare West Region / HNFS
Triwest / VA Community Care
United Food and Commercial Workers (UFCW)
UHC AARP Medicare Complete (Auth required for Banner)
UHC Dual Complete (SNP)
UHC Community Plan (AHCCCS)
UMR
United Mine Workers Union (UMWU)
United Healthcare (Auth required for Banner)
VA Community Care
Wellcare
Washington State Labor of Industry
Your Audiology & Hearing Aid Provider in Scottsdale & Mesa